Families with a large campus that love aquarium fish should build a small garden aquarium that both creates color and brings a luxurious look to their home space. Outdoor mini aquarium is suitable for small garden landscape, highlighting the beauty of fish, bringing interesting experiences in raising and taking care of fish, making your life more interesting.
Although the construction of an outdoor cement aquarium is more complicated than that of an indoor tank, the cost of making an aquarium is also higher than the price of a regular aquarium, but the size of the aquarium is larger than that of an indoor tank. Good environment for fish to grow and give birth easily. With an outdoor aquarium garden, you can also raise many different types of fish such as Arowana, Koi (Japanese carp)… or create an aquarium to raise saltwater marine fish such as bettas, guppies, and pangasius. thia… the colorful colors are very eye-catching.
In order to have a favorable living environment for fish and create a beautiful aquarium, let's refer to how to build a cement aquarium with specific rules about standard aquarium sizes, how to calculate fish tank sizes. , how to filter water for an outdoor aquarium, the process of building and designing an outdoor aquarium below as well as refer to some beautiful outdoor aquarium samples to help you design an aquarium for your family easily. easier.
Outdoor mini aquarium is extremely suitable for small garden landscape
How to build an outdoor cement fish tank
Before finding out what is the most suitable mini outdoor aquarium, how to build a cement pond to raise ornamental fish, you need to know the location of the aquarium is very important. The mini fish tank in the yard needs to be placed in a position suitable for the age, par of the owner, avoiding great cavalry.
Learning about the location of building an outdoor mini-cement aquarium, many people wonder if they should build an aquarium in front of the house. According to many notions, building an aquarium in front of the house is not good for the fortune of family members, however, you can solve this by choosing the shape of the outdoor aquarium and the right direction to build the aquarium. with age, destiny.
So should build an aquarium behind the house? Compared to building an aquarium in front of the house, building a pond behind the house is more advisable to avoid committing great taboos. However, it should be noted, no matter which location you choose, when raising aquarium fish outdoors, especially if you build a mini aquarium yourself, you also need to follow the rules of making a home garden aquarium to raise fish. grow fast, less disease, beautiful color.
Here are useful information that you can refer to to know how to build a simple beautiful mini outdoor cement aquarium, notes on water filtration systems for outdoor aquariums, using anti-corrosion glue. permeable aquarium:
Choosing the location to build an outdoor fish tank must be suitable for the age and destiny of the owner
When making aquariums with guppies, goldfish, ali, discus, bettas … outdoors, homeowners need to pay attention to the cement fish tank inside can be left bare, but it is better to paint a black layer to waterproof the lake. The fish will help the aquarium look cleaner when closed with black moss, the color of the fish is also prominent, making it darker. Waterproof paint also helps prolong the maintenance of the aquarium.
Many people wonder whether it is better to use wooden aquarium feet or use ceramic tiles for small outdoor aquariums. According to the experience of outdoor aquarium experts, ceramic tile on the bottom of the aquarium is not recommended because although it is beautiful, it does not bring out the color of the fish and makes it difficult for the aquarium to grow moss. You should only lay ceramic tiles on the upper edge of the lake bed.
For families who want to bend glass to make an aquarium instead of using a cement fish pot, or build a cement aquarium but don't know what glass to make, where to buy glass to make a fish tank, etc., they can refer to it. How to make a fish tank with tempered glass with a thickness of about 8mm.
You can see the price of 8mm glass for a fish tank, as well as advice on whether to make a tempered glass aquarium along with instructions for making an outdoor glass aquarium, the best aquarium glue at the store specialized in tank design. glass fish.
When making a glass aquarium (glass aquarium) to raise fish outdoors or make a fish tank with tarpaulins, ornamental pots, fish tanks with cement plant pots, even foam boxes, bottles, you also need to pay attention to the depth of the tank. Accordingly, the depth of the aquarium in front of the house depends on the length of the fish and usually subtracts the loss when the fish is large.
The outdoor aquarium is very suitable for keeping Koi fish
For small fish, the depth is usually not more than 80 cm, deeper it will be difficult to see the fish. With large fish over 50cm in size, whether you are building a cement tank to raise freshwater fish such as snakehead, catfish, eel, or building a seafood aquarium, raising large fish such as sharks… you also need to build an aquarium. deeper. The capacity of the lake can be from 4 to several tens of cubic meters depending on the ground, so build the shore of the lake about 30 cm higher than the water surface to avoid the fish jumping out of the tank.
You should install a filter system to ensure a good water environment for fish to grow. Or you can consider building your own aquarium filter when keeping Koi or other fish that require high water filtration. To make it easier to drain the aquarium, build the water collection valve pipe a little higher than the bottom of the tank to prevent the filter from being damaged, there is still water for the fish to live.
You can buy a full range of aquarium building materials such as nets, pumps, garden aquarium filters, outdoor aquarium water filters at stores that sell stone, tank bricks, aquariums, or other places. Accept making aquariums in Hanoi, Da Nang, Ho Chi Minh City, Can Tho, Nha Trang on request… In Ho Chi Minh City, you can order fish tanks on demand or buy outdoor mini fish tanks at fish tank locations. District 12, District 9, Go Vap, District 7, District 8, Tan Phu District…
In addition to gas generating devices, homeowners can build waterfalls for the aquarium in the yard to make the tank more beautiful and create a clean environment for the aquarium. However, this waterfall construction will be difficult to apply in case you make your own aquarium out of wood, mica, Styrofoam, or television, or build an underground aquarium with canvas.
Create a waterfall to make the tank more beautiful, create a clean environment for the aquarium
Decorate more rockeries, miniature aquariums for aquariums in the beautiful garden to create a quiet environment for fish and help fish avoid sunlight in the long run. Besides, you can also stock the duckweed to create a rich food source, increase the amount of oxygen and create a place for fish to breed.
It is possible to design an aquarium in the yard with a few lotus plants, surrounding bonsai trees to add shade and help reduce the growth of moss, and design additional lighting systems for outdoor aquariums, surrounding rocks, tables. Japanese-style chairs add a romantic, shimmering look at night, highly recommended for outdoor koi pond designs.
How to take care of a small garden aquarium
In addition to learning instructions on how to make a beautiful outdoor mini aquarium, how to build a small cement aquarium in front of your house, you also need to pay attention to the care, renovation, and how to clean the outdoor cement aquarium. God. Here is information on how to care for and renovate an outdoor aquarium, keep an outdoor aquarium warm, and treat when the outdoor aquarium is mossy or green algae that you can refer to:
To treat outdoor aquarium moss, you can use the way to kill moss in outdoor aquariums with outdoor aquarium moss killers. This drug can be easily found at stores specializing in aquarium and aquatic life.
In addition to how to make the aquarium clear of moss with medicine, you also need to pay attention to periodically cleaning the outdoor fish tank to make the fish tank free from moss, as well as to make the aquarium water clear. Sanitizing the water for fish will help keep the water environment cleaner and limit disease development in the tank.
To do in outdoor cement aquarium water, you need to periodically clean the outdoor aquarium, use biological products and regularly change the water for the fish.
Periodic water changes help keep the aquarium water, fish live healthy, less sick
About 50% of the water should be changed within 3 weeks while removing the leftovers and residue after the fish eat. This is the simplest and easiest way to do in outdoor aquarium water.
For extremely hot weather, players need to have a sun net, as well as a roof for the fish, to reduce the temperature in the tank.
Use nets or tarpaulins to cover when it rains heavily to prevent fish from drifting out.
The most beautiful outdoor aquarium models
Currently, the mini aquarium has many miniatures, the layout of beautiful outdoor aquarium decoration is quite diverse for you to choose from. If you are in need of a beautiful outdoor mini aquarium to decorate a small cement aquarium, build a beautiful outdoor aquarium, then the most beautiful outdoor aquarium models below are suggestions not to be missed. .
Let's refer to the following ways to set up an extremely beautiful outdoor aquarium by ancu.me to choose for yourself the most beautiful outdoor aquarium models!
Model of a small peaceful garden fish tank in the corner of the garden
The aquarium in the front yard is simple but very eye-catching
Feel like returning to the peaceful countryside with this beautiful mini aquarium
A simple and poetic way to decorate a beautiful home yard aquarium
Outdoor mini aquarium shows the personality of the owner
Small semicircular aquarium model is easy to make
Beautiful outdoor mini aquarium for more peaceful living space
The outdoor Japanese carp pond is arranged, poetically and romantically arranged
A beautiful outdoor aquarium with a very cool layout
If you are stuck on the idea of ​​​​a mini outdoor fish tank, then immediately refer to this beautiful fish tank model
Great relaxing corner by the outdoor fish tank makes you feel more peaceful
If you do not know how to decorate an aquarium, you can learn this aquarium model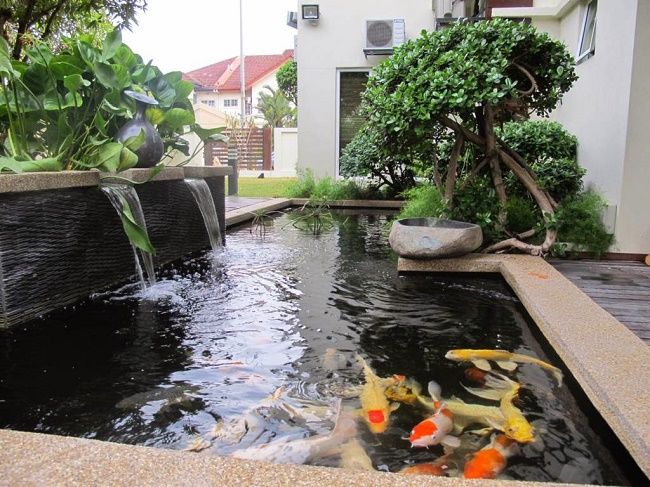 One more suggestion to design an outdoor Koi pond you should not ignore
Above are instructions on how to make a beautiful cement aquarium, a beautiful outdoor fish tank model, notes when building an outdoor aquarium and how to care for an outdoor aquarium that is really useful and a collection of pictures. Photos of beautiful small outdoor aquariums for your reference for your aquarium.